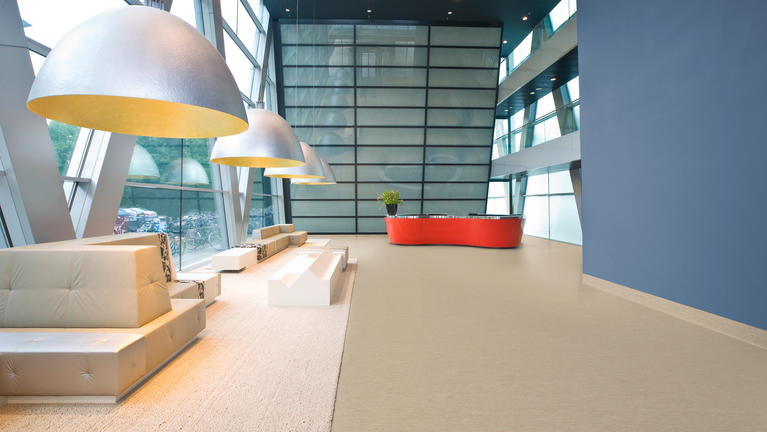 Visualize your architectural space
On this page you will find free and web-based tools to fully visualize your architectural space with different flooring solutions, materials, colors or even patterns.
Visualize your space with different floorings
The Room Visualizer enables you to see any one of Tarkett's floors in the space of your choice: Vinyl floors, Carpet, Wood, Linoleum, Luxury vinyl tiles and Laminate. You can also choose the orientation of the floor to test different installations in the same setting.
You can choose from a selection of different spaces and interiors available on the platform, or upload your own image taken with a mobile phone or from a desktop to visualize any one of Tarkett's floors in your space.
After you are done visualizing your interior space with Tarkett floors, you can download
an HD image
a 3D texture (CAD file)
a PDF with the full recap of the image and floors you have visualized
Create your own custom-made flooring pattern
Tarkett offers several custom modular vinyl tile flooring collections that enable you to customize your own flooring pattern based on our inspiration gallery: iD Mixonomi and iD Mixonomi Jewels . To customise your own pattern for any of these collections, you can use any one of our online configurators below to choose a pattern and play with colours. After you are done creating your pattern, you can either visualise it in one of the available interior spaces or upload your own photo.
The iD Mixonomi Online Configurator is a special web-based tool to create your own modular vinyl tiles pattern. You can choose the colours you want to mix together. You can then download a jpg or a cad file as well as the list of products (modular tile colours and shapes) you need to order to reproduce the pattern you created.
The iD Mixonomi Jewels Online Configurator allows you to build your own iD Mixonomi Jewels experience by mixing new colours using Beauregard studio's layouts. You can view your creation in a space of your choosing or upload your own photo.
Also, you can download a jpg or a cad file as well as the recipe of the flooring you created with required quantities for a 20m² surface, for any of our customizable collections, iD Mixonomi, iD Mixonomi Jewels and iD Supernature & Tattoo.
Watch the video to start customizing iD Supernature & Tattoo with our Design Assistance Service:
Visualize your interior design project
The Room Designer enables you to
Visualize your project with different floorings, in different areas
Download high resolution pictures and 3D textures for your projects
Find inspiration by playing with different products
Compare different floors in the same setting thanks to a comparison functionality
How to use the Tarkett Room Visualizer