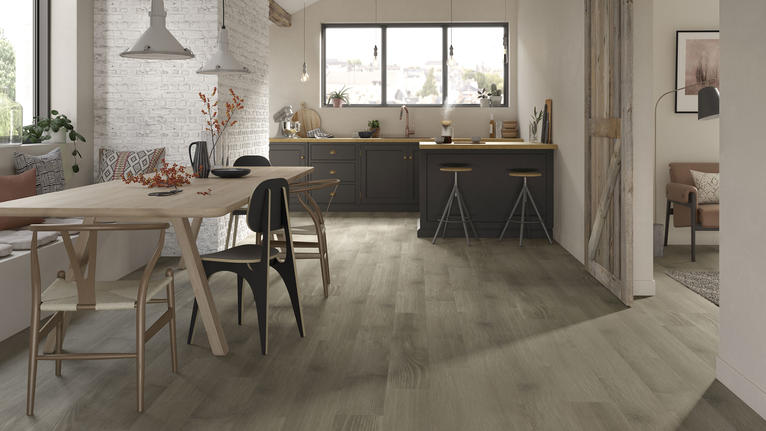 Starfloor Click Ultimate 30, the tough vinyl flooring
Introducing Tarkett's new rigid luxury vinyl tile, (LVT), Starfloor Click Ultimate 30. This innovative, multi-layered flooring is waterproof, sound-absorbent and highly resistant. But what makes Starfloor Click Ultimate 30 so outstanding is its rigid core, which provides structural solidity close to laminate or wood.
Available in tile and plank format, it's ideal for new homeowners who want a uniquely durable design-rich floor tough enough for family life.
Installed anywhere, withstands daily life everywhere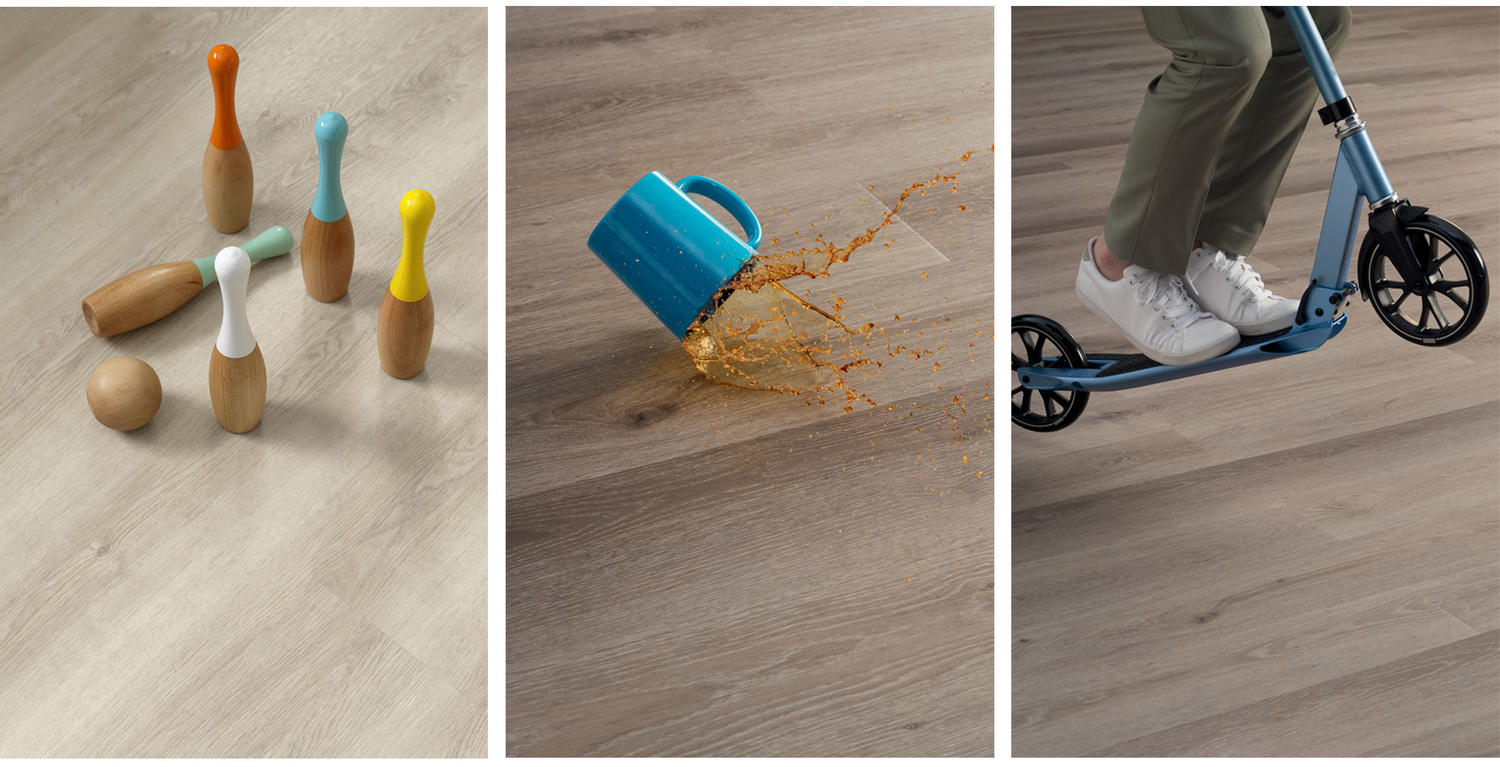 Starfloor Click Ultimate 30 flooring is made to handle life's daily dramas, wherever they occur. Bedrooms, bathrooms, living room, no matter where you install it, it withstands daily life.
Its enhanced, rigid-core construction gives Starfloor Click Ultimate 30 exceptional stability and strength. It won't ripple or swell over time, holding its shape and size despite changes in temperature from 10°C to 50°C, while its beautiful look is unaffected by water, cold or heat. In fact, Starfloor Click Ultimate 30 is so durable that it can handle nearly all kinds of damage. And since it's both waterproof and easy to install, you can lay it over bathroom ceramic tiles with joints up to 6mm wide.
Sun-proof, wear-proof, stain-proof, dent-proof, environment-proof, kid-proof and life-proof, Starfloor Click Ultimate 30 can withstand the full force of family life and still look stunning.
Easy lay vinyl floor tiles, so easy anyone can do it
Almost every type of flooring requires some kind of subfloor preparation. Thanks to its integrated acoustic backing, Starfloor Click Ultimate 30 doesn't need additional acoustic underlay. Its rigid core means it can cover over the small bumps and wrinkles commonly found in older or damaged floors.
Starfloor Click Ultimate 30 can be installed directly over ceramic tiles (with joints up to 6mm wide) and most existing subfloors without the expense and trouble of repairing uneven surfaces beforehand. It's the perfect choice for quick, effective renovations.
Because it's modular, it can be installed step-by-step. No need to clear the whole room, just move the furniture as you cover each area, with less disruption to family life.
What's more, the 3L TripleLock Click system makes installation among the easiest and fastest on the market. It simply clicks together quickly and effortlessly. All you need is a utility knife to cut the tiles or planks. Forget fancy tools and noisy machinery. Forget gluing, drying or waiting. Once this floor's down, it's ready for use.
And if you want the flexibility to refresh your decor, Starfloor Click Ultimate 30 is also far simpler and more cost-effective to change than ceramic floors.
Essential. Simple. Natural.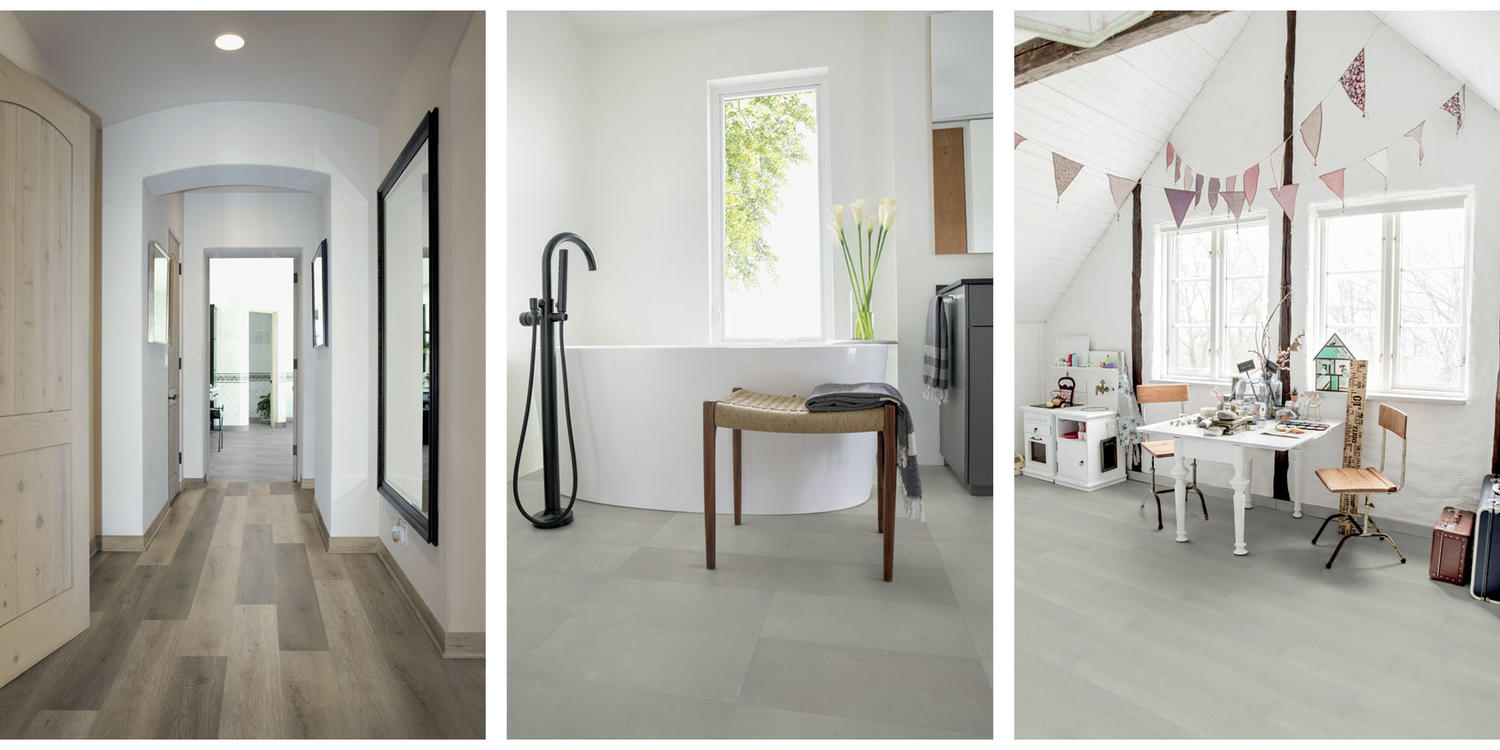 StarFloor Click Ultimate 30 can help homeowners express their creative flair. Made with new homeowners in mind, this essential collection offers 18 fresh, contemporary matte finish designs ranging from peaceful, rustic tones to white-washed shades and mineral finishes. The unique grain-effect surface available on some collections captures the textures of the material that inspired it. Both to the eye and underfoot, the finishes are pleasingly authentic and precise.
There's something to match the look and feel of all rooms. Simply choose the essence and colour that reflect the interior and mood you want to create. Inspired by everyday life and designed with natural simplicity, this easy-to-use rigid LVT collection satisfies all your creative aspirations. Choose from Starfloor Click Ultimate 30's selection of beautiful designs and combinations to create a timeless look.
The soundproof floor
There's nothing nicer than enjoying the feel and comfort of a new floor as you walk around quietly. StarFloor Click Ultimate 30 flooring is a real treat for the feet.
Our innovative acoustic backing significantly reduces the sound of walking across the floor, by 18dB. Whether you're barefoot or not, Starfloor Click Ultimate 30's sound-absorbing qualities mean quieter footsteps and a more peaceful acoustic experience. Now, moving around the house is easier on the ears than with other hard floors. Even kids' bedrooms will seem quieter.
Life at home suddenly sounds more restful.
Starfloor Click Ultimate 30 is the ideal floor for new homeowners and design-lovers that want an easier way to create their own look. It requires little or no subfloor preparation while offering a fast and simple route to rigid, resistant flooring that's water- and stainproof.
If you are a retailer, please click below to download the Starfloor Click Ultimate 30 tool kit :