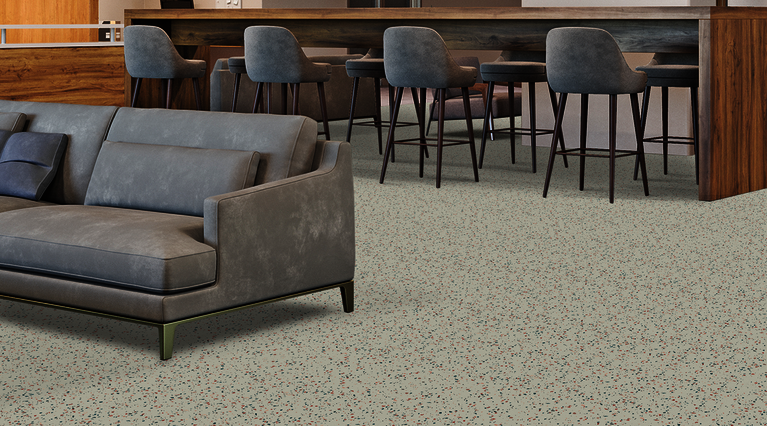 Starfloor Click 30 - 55, the easiest solution for Commercial & Residential areas
When it comes to renovating a floor space, there are many options that combine best quality with zero hassle. Vinyl click flooring is a great option when looking for high-quality and elegant floors that are functional and easy to clean. Starfloor Click 30 -55 collection combines beautiful natural-looking designs with terrazzo, marble, wood and concrete effect floor tiles, increased durability for residential & commercial traffic areas and easy installation thanks to the click system.
High resistance to traffic in residential and commercial areas
Starfloor click is a durable choice available in two constructions: Starfloor Click 30, with a 0.30mm wear Layer for Residential or Light Commercial use and Starfloor Click 55, with a 0.55mm wear Layer for Heavy Commercial use.
Treated with Top Clean surface protection, it offers increased resistance to your kitchen, living room, child's room but also in office open spaces, corridors, stores & shops and ll spaces where scuffs, scratches and stains happen, not to mention how easy it is to clean and maintain.
Easily Installed with a "click"
Starfloor Click requires very little subfloor preparation and does not damage existing floor, making it the perfect floor for renovation!
Starfloor Click is equipped with an easy-to-handle locking system that requires no specific tools. It is a glueless floating installation: the floor can be used right away.
The robust click system keeps the planks sealed and steady for years!
From tiles to three lengths of planks, (all with four-sided bevelling), you can opt for an acoustic underlay for additional sound absorption and matching skirtings for that final polish.
30 beautiful designs to match any taste!
Tarkett's Starfloor Click 30-55 collection offers 30 best-selling designs. With a select range of natural-looking colours and wood, marble, terrazzo, stone and concrete effects, Starfloor Click 30-55 collections offers subtle designs suitable for both residential and commercial areas.
With soft, muted hues, it's the perfect complement to bright furniture that brings life to a room or the perfect flooring for an elegant commercial space.
The collection comes with an elegant Matt finish that reinforces the authentic beauty of a room's atmosphere.
Add another dimension to your decoration by amplifying it with textures that bestow upon your floor a look and feel close to the real thing.
The embossed-in-register technique engraves effects onto your planks and tiles that reproduce wood or stone's natural essence. As light travels across your floor, the grain or pattern is reflected, reproducing a lifelike finish all around you.
Designed for life
Starfloor Click collection is a great option to maintain a good indoor air quality thanks to ultra-low VOCs, less than 100 μg / m3 (TVOC after 28 days). It is also Phthalate-free, contributing to healthier spaces and helps you reach green building certifications like BREEAM, WELL and LEED.
We aim to close the loop, and Starfloor Click is 100% recyclable and easy to recycle as it is glue free.