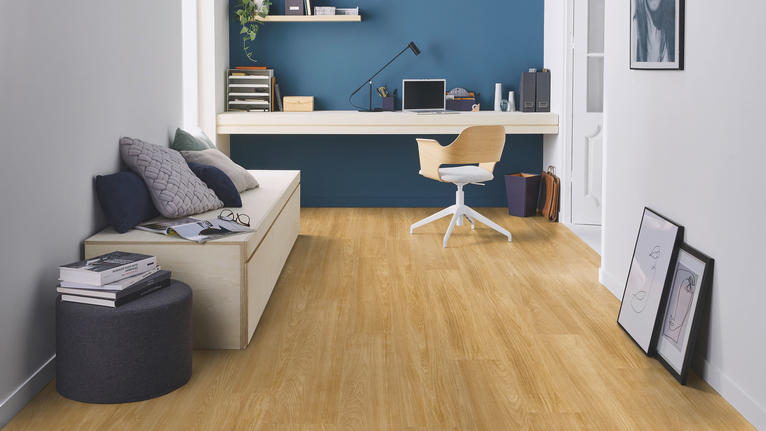 The most resistant and modern flooring for you and your clients
Tarkett's residential Luxury Vinyl Tiles (LVT) are the perfect floorings for private customers and professionals. It is a modern and modular flooring solution that is simple and easy to install and maintain, and they are especially appreciated by installers, housing professionals, public institutions and families.
Durable, easy to clean and easy to install, LVT is a multi-layered, resilient and waterproof vinyl flooring that comes in a wide choice of designs. Your customers can easily combine floorings from a selection of several collections, specifically from Starfloor Click Solid 55 and Starfloor Click Ultimate 55 – our latest collections that feature new color-coordinated designs. Starfloor Click Solid 55's rigidity has been reinforced, granting extra stability. This range also showcases a good dimensional stability (up to 45°C vs 30°C), allowing installation in sun-exposed or with high temperature variation areas.
Additionally, thanks to our phthalate-free floorings with low or ultra low Volatile Organic Compound (VOC) emissions our products provide a healthier indoor-air quality.
Here are some other features that will interest you:
Easy Installation
Our reliable click system helps your customers save time, since the flooring can be directly installed on an existing subfloor (e.g. ceramic tiles), with little subfloor preparation.

Easy to clean and maintain
Our PUR special surface treatment allows your clients to effortlessly maintain their vinyl flooring, since it is resistant to scratches and stains.

Wide range of stylish designs
Our large collection includes four different ranges that allow Your customers:
• To choose from a combination of colours, textures and patterns You:
• To save time and work with any budget
• To provide your residential clients with designs from the same collection that can be easily mixed and matched to create flexible and modular spaces Here is a detailed description of our latest collections.
Starfloor Click Solid 55/55Plus
This new, modern and modular collection is the perfect balance between a stylish and durable flooring. The collection is made to resist stains from, scuff marks, indentations, temperature oscillations (up to 45°C) and other marks from daily occurrences. Exceeding customer expectations, a special digital printing technology that mimics raw materials and recreates an extremely authentic look and feel, is applied to some of the designs in this range. This range is now more rigid, which makes installation directly over an existing flooring, like ceramic tiles with tight joints, possible. And of course, its installation system is the ideal solution for saving time on any renovation project.
Stylish designs
• Seven new designs within a collection of 14 designs
• Embossing-in-register technology that imitates the material's natural look
• Digital printing that provides a highly realistic feel on 3 new designs and up to 12 square meters

High resistance
• Fibertech technology offers good dimensional stability up to 45° as opposed to 30°C
• It is a semi-rigid that provides extra stability thanks to a reinforced rigidity
• Scratch resistant
Easy installation
• Quick renovation thanks to our push down click system that saves time

Better indoor environment
• Our products are made in Europe, so your eco conscious customers will be pleased to know that we limit our carbon emissions by reducing our transportation footprint
• Ultra low Volatile Organic Compound (VOC) emissions provide a healthier indoor-air quality
Starfloor Click Ultimate 55
This highly durable collection can easily withstand day-to day events. It is a stable, strong, all-proof flooring perfect for all circumstances. Furthermore, the new colours and designs are taken from real parquet and mineral floors, so they naturally copy the textures of the materials that inspired them. Lastly, it is an enhanced acoustic solution with soundproof qualities that diminish the sound of footsteps and unwanted noise.
Ultimate design
Our unique surface grain-effect and six new wood colours, coordinated with the Starfloor Click Solid 55 collection, offering authentic and tasteful design options.

Ultimate resistance
• Rigid-Core Construction (RCC) technology, prevents rippling or swelling over time, allowing the flooring to keep its original shape and size despite drastic changes in temperature (10°C - 60°C)
Ultimate installation
Our I4F® Click technology allows for an easy installation over ceramic tiles, with joints up to 8mm wide, and reduces business downtime.

Ultimate acoustics
Our innovative and integrated acoustic backing, with 19dB acoustic insulation, reduces sound transmission. "