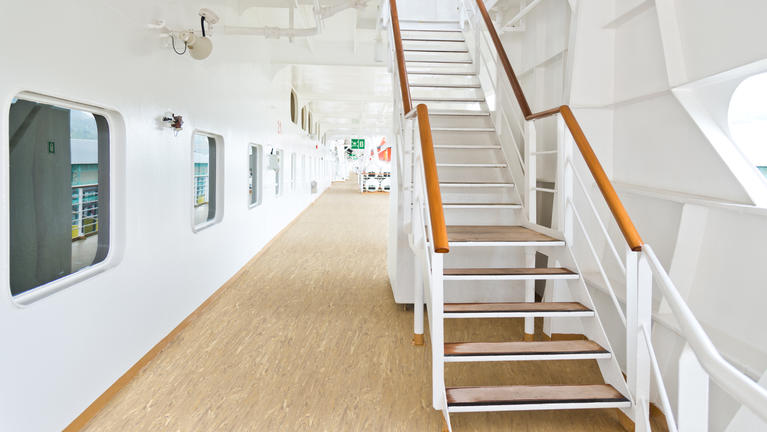 Floorings for Marine or Transportation applications need to be resistant to heavy traffic. Tarkett offers a whole range of vinyl and carpet floorings that are specific for these applications. Tarkett is the one-stop-shop flooring solutions provider for the Marine industry!
As specialist in the market for over 35 years, Tarkett marine is your true partner for marine flooring. Seamlessly combining resilient & carpet flooring, from standard, stock products to bespoke, luxury woven Axminster Carpet.
On top of our wide range of marine products, certified as per IMO / MED regulations, we offer SMART Project Management based on Total Cost of Ownership. It is all about optimizing cost, avoiding waste, improving installation in time and labor, fleet management and sets a baseline for budgeting. This is done through careful calculations and technical planning to reduce waste and ensuring just-in-time delivery in full compliance with your standards and needs.
Our carpet Marine collections include custom design collections
Axminster Sculpt - Enabling to create a truly unique effect for ultimate luxury experience. Benefit from unlimited creative possibilities and a structured, organic depth never-before-seen in Axminster Carpet.
Axminster - Luxurious DESSO Axminster carpets offering endless design possibilities and an outstanding beauty. Design complex, crispy clear patterns whilst providing long term durability.
Gravure (printed) - Experience unprecedented freedom in carpet design with our custom-made Gravure printed carpet. Bringing outstanding color and clarity to your design through use of printing technologies that apply pattern to a white 'greige' tufted carpet surface by injecting dye with high pressure jet heads, achieving optimal dye penetration.
And in-stock solutions for fast availability
Axminster in stock

- A premium quality Axminster carpet available directly from stock in four

intriguing

patterns and color combinations. Perfect for interior design projects that run on a tight schedule.

Tide

- A 100% solution dyed nylon product. Tide lends a feeling of rippling waters to the indoors with its subtly layered wavy design. Like the tidal ridges of the seabed, this textured carpet allows you to play with the space to create a serene flooring with a nautical look. Bring the ocean to your own room with four nautical colors; dark and light blue, dark and light grey. Tide is IMO Part 2 certified and can be applied in all areas except escape routes & emergency exits.
Our vinyl Marine collections include 5 standard collections of Homogenous Vinyl