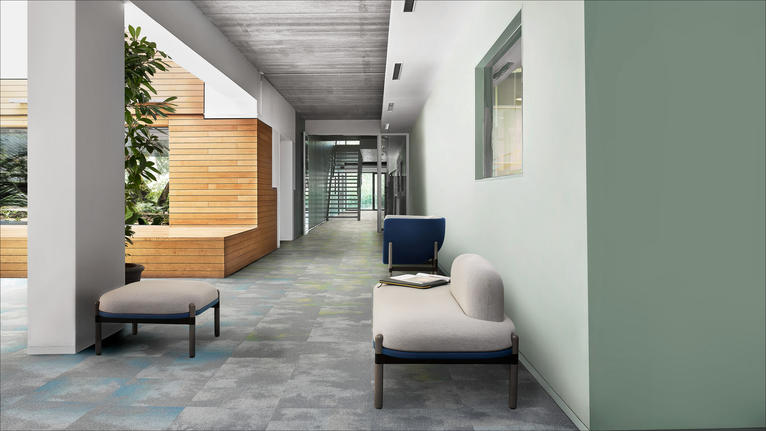 Discover our floorings for the workplace
The way we work is changing and with it the definition of a modern workplace. A more holistic approach to design help create inspiring, multi-purpose spaces that support the health and wellbeing of the workforce, which in turn leads to better productivity and results for an organisation. Flooring plays a key role by providing benefits such as improved air quality, sound control, comfort and light reflection. Our broad portfolio of flooring solutions—including carpet, modular vinyl, wood, laminate and linoleum—can provide limitless design possibilities and opportunities to express a brand identity, as well as offer inspiring transitions from one area to another. Different textures, designs and colours can be used to create walking paths and distinct zones, establishing places to work, to collaborate, to quietly concentrate, or to build a sense of community. At Tarkett, we are committed to developing sustainable flooring solutions that not only create value but also enhance people's wellbeing and respect the environment.
A solution for every space
Today most people spend around 90% of their time indoors, so workplace interiors that provide health and well-being are more important than ever. Different materials, textures and designs can be effectively combined to indicate the purpose of each area and make it easy for staff to find their way around the office. Modular flooring products, such as carpet tiles and vinyl planks, can provide particular design flexibility and offer inspiring transitions from one area to another. Innovative and sustainable carpet solutions, such as our DESSO AirMaster® with DESSO SoundMaster® backing, are perfect for areas where indoor air quality and sound control are important.
7 trends for a modern workplace
Discover 7 trends for the workplace, illustrated with high-quality, responsibly manufactured carpet and resilient flooring in one convenient, multicategory offer.  Discover endless possibilities that fit together seamlessly to suit your contemporary workspace.
Activity-Based Workplace Design
As companies around the world open their minds to new ways of working in response to the global pandemic, 'activity-based' workplace design has become quite the buzzword. The concept of activity-based workplaces consists in combining an academic approach with focus on putting people at the core of our decision-making, to create efficient work environments. In the wake of Covid-19, with many governments across the world encouraging a mix of home and office working - this activity-based approach is more relevant than ever. 
Quick Ship - 48h
Demanding delivery schedules sometimes require floorcoverings on short notice. We've got the colors, patterns and textures you need – shipped from China within 2 working days! Available for:
16 best-selling Tandus products
5 DESSO products
10 LVT references in glue down or click versions
With inventive patterns and an extensive offering of fresh colour palettes, DESSO carpet tiles work beautifully together with other Tarkett products, to create stunning and practical concepts for every space within a building.
Floor is the new playground with luxury vinyl tiles. Produced in both tile and plank format across a range of patterns, colours and styles, they offer endless layout possibilities thanks to their modular format.
Wood's beauty, strength and character bring authenticity and warmth to any interior. Equipped with a click installation system, wood floors are also easy to install and ready to use.
Homogeneous vinyl for the workplace
Composed of a single layer of vinyl, compact homogeneous vinyl floors are glued to the subfloor and welded. Compact homogeneous vinyl floorings are tough and ultra-durable solutions for heavy and very heavy traffic areas.
Linoleum for the workplace
One of the most natural and sustainable flooring solutions on the market, Tarkett linoleum has been appreciated for its natural beauty, comfort and durability for over 150 years.