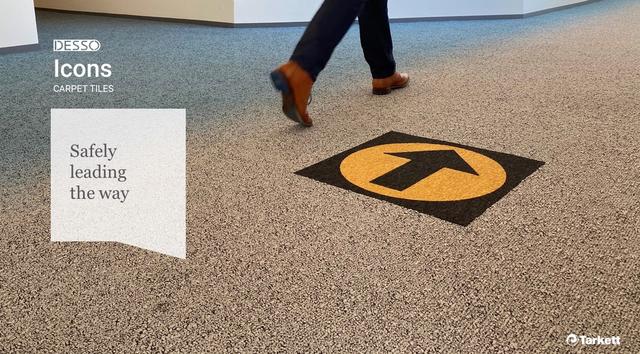 Guiding employees in the post-COVID office environment
As COVID-19 lockdowns are slowly eased around the world, businesses are trying to balance the reopening of the economy with the health and safety of its employees. Flooring has a crucial role to play here as a simple yet effective way of guiding employees through various office spaces.

Tarkett has created ready to dispatch 'drop-in' carpet replacement tiles in striking yellow and blacks that offer a clear, constant and visual reminder of how to navigate around the office – safely.
DESSO® Icons collection includes a black/yellow arrow-shape made of DESSO Essence, available from stock. Other colours, symbols or icons are available upon request with minimm order quantity.

Each box comes with 2 different colour combinations as a standard (e.g. yellow base with black circle & black base with yellow circle). Not only does this allow for differentiation between directions, it is also completely in line with Tarkett's sustainability goals as it means there is no cutting waste in the production of these tiles
Key Messages
Simple and cost effective solution:

  Easily remove your current carpet tiles (50x50cm) and replace them with

DESSO Icons

wayfinding tiles, where required.

Adapt to your office layout:

 the inner circle is completely modular, so it can be easily placed 

to point in any direction!

Designed with international safety colours striking combination of DESSO

Essence yellow (5420)

and

black (9991)

Create your own icon

: Other colours, symbols or icons - in line with customers' corporate identity – can be made to order as a Special.