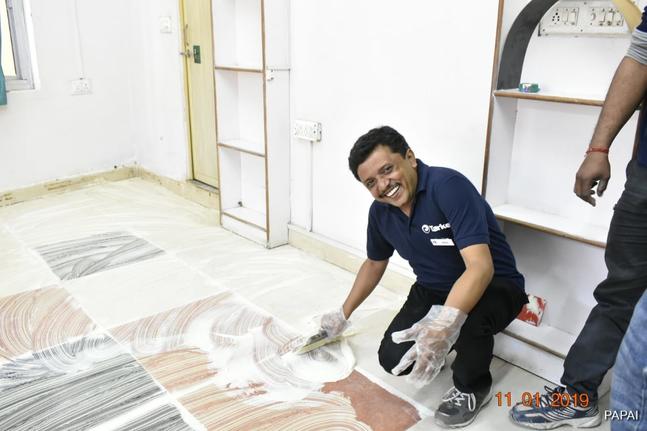 Tarkett Cares Actions in Asia
Supporting local communities
In 2016, the Tarkett Cares program formalized the Group's and employees' engagement with local communities in many countries. One of the main goals of this program is to help improve people's lives in communities in which we are based, and more generally to help meet local needs. Tarkett Cares is a flexible program that provides this support in different ways: volunteer work, donations, helping to build or beautify living areas, improving the quality of life and health of local populations, sharing expertise and developing talents, encouraging entrepreneurship or protecting the environment... For Tarkett teams, these voluntary initiatives offer invaluable opportunities to share common values, in particular generosity, solidarity & team spirit.
Some initiatives carried on in Asia:
In January 2019 a team of 11 Tarkett employees in installed 30 m2 of LVT flooring in the consultation room of the Narayan Seva Sansthan Hospital in Udaipur in northwestern India. The hospital is run by the eponymous NGO and provides free care to underprivileged people irrespective of caste, creed or religion, having carried out more than 37 000 corrective polio surgeries to date. Tarkett APAC donated the flooring and paid for the installation.
In february 2019, our Tarkett Asia sales teams took advantage of their annual sales meeting in late February in Penang, Malaysia, to undertake a Tarkett Cares initiative in a local nursing home: Peter's Home Care Center. The sales staff worked in four groups in the garden so as not to disturb the patients, with each one assigned a specific task, such as planting flowers, cleaning the drains and trimming trees. They also brought gifts for the patients. "With Tarkett Cares actions, we support local initiatives that aim to improve people's well-being," said Olivier Declemy, Managing Director, Asia. The center, which was created in 2014, focuses on rehabilitating patients and providing them with quality nursing care, tackling the social, physical and psychological aspects of rehabilitation.