Hard-wearing, long-lasting and endlessly recyclable: three reasons we love PVC flooring.
One of the biggest ways you can do your bit for the future of our planet, is to select a product that lasts and that can be recycled almost ad infinitum. It's why we're fans of PVC use in flooring. It's a durable material that can stand many years of wear and tear without needing to be replaced. PVC also has insulating properties and is fully suitable for high demanding spaces with specific maintenance requirements, so it's a great choice for environments like hospitals and schools where hygiene and infection prevention are crucial.
Read how we make responsible use of PVC in our floors today.
As committed followers of the Cradle to Cradle® methodology and a circular economy, we apply the same sustainable thinking to all our PVC products. We assess every material we use and we're always on the hunt for something even better to continuously optimise our formulations. That's why we're 100% phthalate-free* and offer low to ultra-low VOC standards contributing to healthier spaces and good indoor air quality.
No phthalates, no biocides
Since 2018, 100% of our vinyl production sites in Europe use phthalate-free plasticiser technology, including recycled content. Our PVC products do not contain biocides.
No heavy metals
Our PVC products do not contain heavy metal stabilisers. Our PVC suppliers do not use mercury cell or asbestos based membrane technology in their chlorine production process.
Durable and endlessly recyclable
PVC is a durable material and can be recycled almost ad infinitum, up to eight times. We collect and recycle PVC floors though ReStart® take-back and recycling programme.
We're also developing ways to make PVC even more sustainable now and in the future. Post-consumer PVC** is already eligible for our trailblazing take-back and recycling ReStart® programme. We're also innovating with glue-free PVC flooring both click and loose-lay to enable even more successful post-life recycling.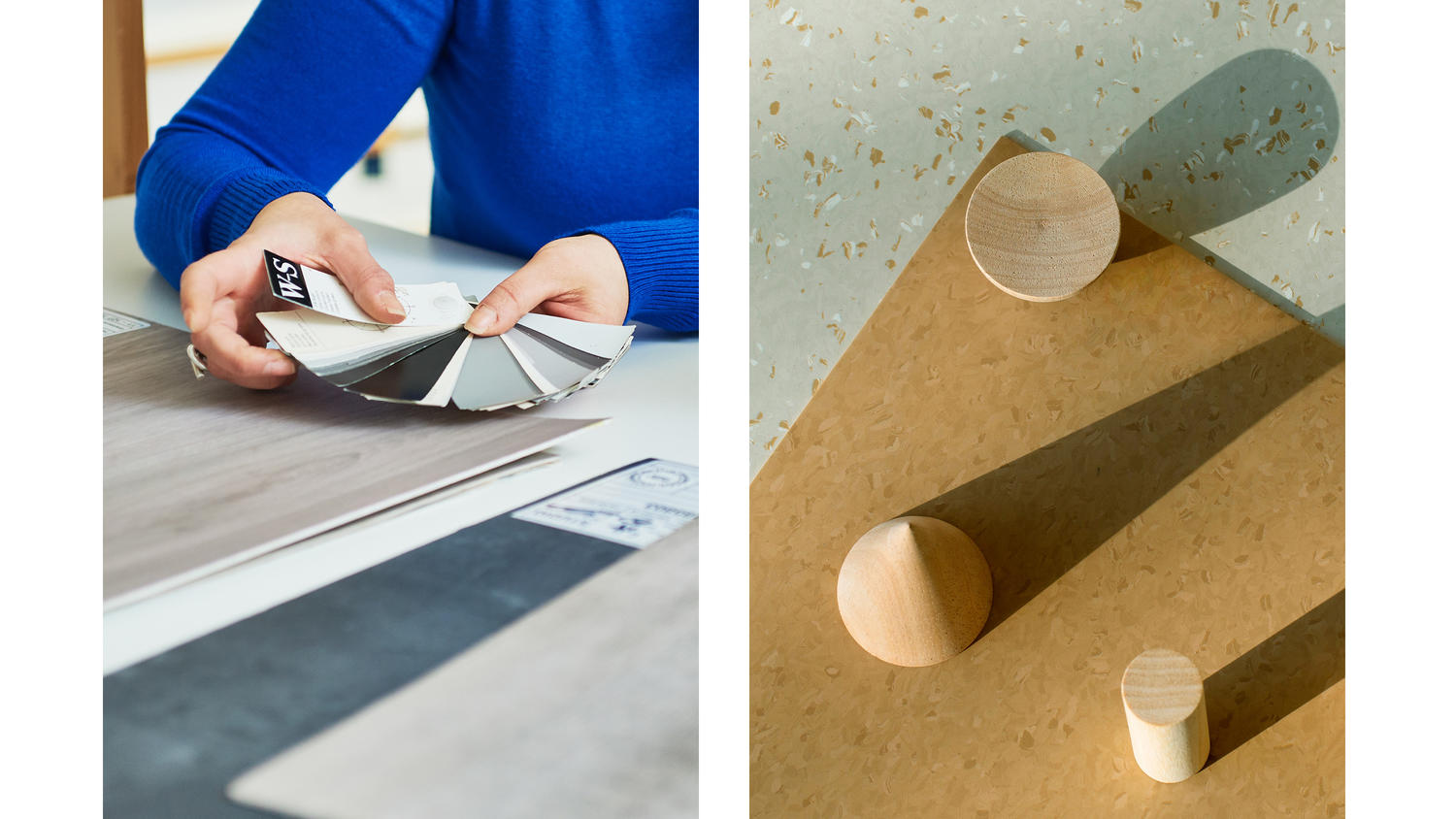 And we continue to explore breakthrough PVC formulations, for example, our new generation of iQ Natural substitutes 100% of fossil-sourced vinyl with bio-attributed vinyl BIOVYNTM***.
It's all part of our commitment to offer you flooring solutions that promote healthy environments without costing the Earth.
* Since 2018, 100% of our vinyl production sites in Europe use phthalate-free plasticiser technology, including recycled content.
**Post-consumer homogeneous flooring, produced after 2011.
*** Produced by INOVYN, BIOVYNTM is the world's first commercially available bio-attributed vinyl. It is recognised by the RSB, an independent body that recognises the 'bio-attributed' status.
Making conscious choices. For people and planet.
Tarkett Human-Conscious Design®.
ReStart®
Learn about ReStart® our trailblazing flooring take-back and recycling scheme that's closing the loop
Read more here
Cradle to Cradle®
Learn about Cradle to Cradle®, the methodology that guides us
Read more here
iQ Natural
Find out more about our iQ Natural PVC range
Read more here
Download our sustainability report
We're committed to creating a circular economy. Closing the loop on waste, preserving natural resources and reducing the impact of climate change.
Leading the way in Indoor Air Quality, so you can breathe easy.
Relentless scientific testing of materials and radical transparency for your peace of mind.