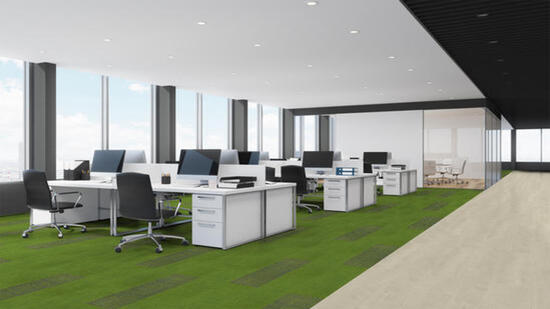 Tricot - TANDUS

Tricot collection is reminiscent of luxurious knitfabrics, making it a modern-day classic suitablefor any interior space. Tricot has the 2 tones base colors: Black & White, famous toChanel collections. This tightly detailed chenille offersa virtually seamless visual when installed vertical ashlar. Tricot is available in a wide range of 27 colors to be able to find the right tone for your workplace project! Tricot is the adaptation of Geoknit collection made in North America
Technical and environmental specifications
Flooring Type:
Carpet Modular
Product type:
Textile floor coverings (EN 1307)
Pile construction:
Textured loop pile
Browse the Tricot - TANDUS collection
Create your own rendering in the room visualizer!
The Room Visualizer enables you to see all Tarkett's floors in the space of your choice, with the required orientation to test different installations in the same setting.
You can choose from a selection of different spaces and interiors available, or upload your own image to visualize any one of Tarkett's floors in your space. Finally, you can download high resolution pictures and 3D textures.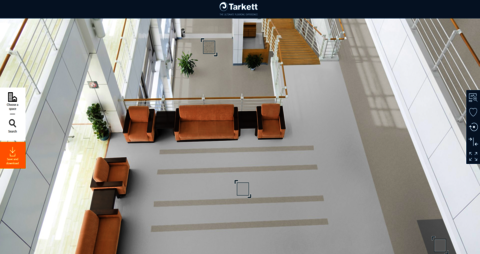 Download all Tricot single tiles for your project!
To be able to install our carpet on your own renderings or 2D floor plan we have prepared them all for you and easy to download! By clicking on the link below you will be able to access the single planks or tiles for all colours of Tricot - Tandus Collection.
Technical and environmental specifications
Tricot collection is reminiscent of luxurious knitfabrics, making it a modern-day classic suitablefor any interior space. Tricot has the 2 tones base colors: Black & White, famous toChanel collections. This tightly detailed chenille offersa virtually seamless visual when installed vertical ashlar. Tricot is available in a wide range of 27 colors to be able to find the right tone for your workplace project! Tricot is the adaptation of Geoknit collection made in North America